Leadership & Staff
CHURCH COUNCIL: Here at Christ Church we have a Church Council Committee consisting of nine members, who are voted upon. They meet monthly on the second Wednesday of every month at 7 p.m. throughout the year. They address the needs of the church.
PASTOR ERICSON'S OFFICE HOURS:
12 noon to 5 p.m. Tues, Wed., & Thurs.
Saturday hours: 10 a.m. to 2 p.m.
If an occasion arises that Pastor is not in her office, you may contact
her on her Cell Phone: 847-431-0332 or leave a message at the
Church Office: 847-297-4230.
Church Office Hours: 8:30 a.m. to 5 p.m. Monday thru Friday
STAFF:
Rev. Virginia E. Ericson, Pastor of Christ Church
Deborah Grenier, Administrative Secretary
Kyle Speer, Business Manager
Leslie Thomas, Church Pianist
Hana Fujisaki, Church Organist
All Members, Lay Ministry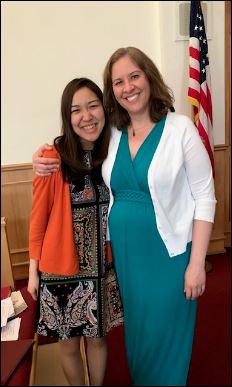 Orgainst, Hana Fujisaki & Pianist, Leslie Thomas